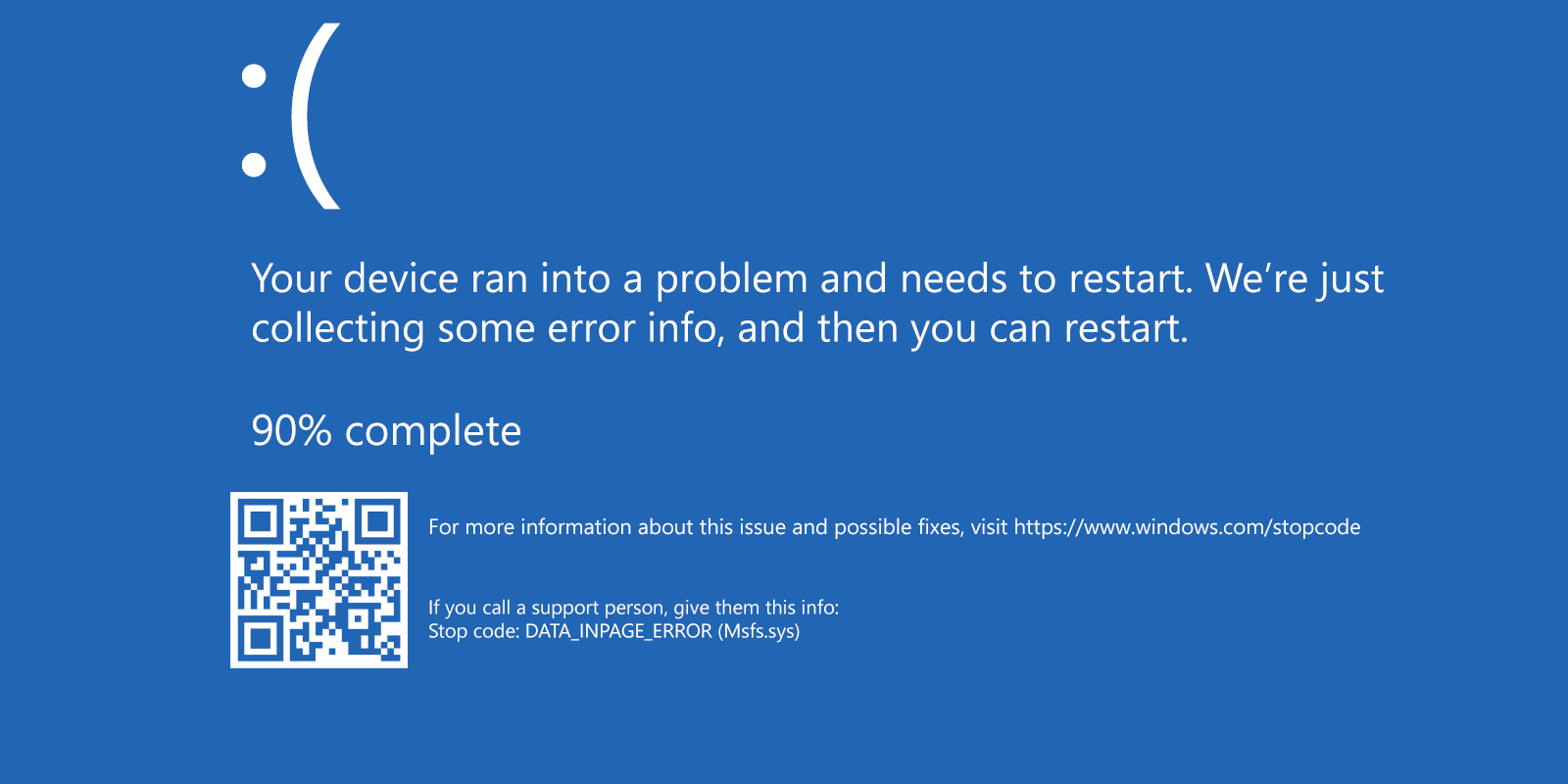 How to Fix KERNEL DATA INPAGE ERROR BSoD
The KERNEL DATA INPAGE ERROR displayed on a blue screen is usually due to HDD or SSD and, sometimes, RAM issues. Failing hard drive or unseated cables could be a culprit. Software issues may cause the error, but it's not common for this BSoD.
The following troubleshooting guide lists several methods to fix the KERNEL DATA INPAGE ERROR on Windows 11, Windows 10, and previous versions.
Common causes of the Kernel Data Inpage Error
As mentioned above, this blue screen is usually caused by hardware problems. Depending on the version of the operating system installed you might see a .sys file or an error code displayed on the KERNEL DATA INPAGE ERROR blue screen, helpful for troubleshooting:
Msfs.sys, 0xC000016A, 0xC000009D, 0xC000009C — hard drive failure, bad sectors, unseated or damaged cables, other device errors.
0xC0000185, 0xC000009A — HDD or SSD issue in most scenarios, but also may be caused by SATA or IDE ATA/ATAPI controller drivers, virus or RAM and operating system errors.
0x0000007A — File access errors, the exact reasons remain unclear.
The Simplest Yet Effective Solutions in Windows 11 and Windows 10
Before we start, first thing to try is to reboot your PC. If it's the first time when you encounter the blue screen it might be some random hardware error that won't happen again.
Considering the most common causes of KERNEL DATA INPAGE ERROR errors, below are the basic steps to troubleshoot and fix it:
Verify HDD and SSD connection cables are seated well both from the drive's and motherboard sides, replace cables with new ones if possible. For PCI-e M.2 SSDs, disconnect the drive and connect it again. If there are additional connectors on the motherboard, try using a previously unused connector.
Scan the system partition on your hard drive or SSD. Run the Command Prompt as administrator by typing "cmd" in the search field on the taskbar, right clicking the result and selecting "Run as administrator" item. Type the chkdsk C: /f /r command and press Enter. If prompted to restart the computer, type "Y", press Enter, then restart the computer. If errors were found and fixed, this may fix the BSoD.

Remove the RAM modules, clean the contacts (you may use rubber eraser but use it carefully), then reinstall the memory.
Use Windows Memory Diagnostic Tool. Right-click the "Start button", select "Run" from the context menu, type mdsched.exe and press Enter. Select "Restart now and check for problems" then select "Standard" scan in Windows Memory Diagnostic Tool by pressing F1 when it starts after reboot and apply it using F10 key.

Using command prompt with administrator privileges, run the sfc /scannow command to fix possible system files damage.
Try removing peripherals and recently changed hardware on your PC and see if it helps.
If you've adjusted your virtual memory (paging file) settings, revert it to "Automatically manage paging file size for all drives".

In case you have more than one HDD or SSD on your computer, test if there's a KERNEL DATA INPAGE ERROR when non-system drives are disconnected.
One of the above approaches usually works and hopefully you've fixed the error. If the KERNEL_DATA_INPAGE_ERROR blue screen still nags you, try the additional solutions.
Other Ways to Fix Kernel Data Inpage Error
In case the previous methods did not work, follow the steps in the section below:
Try using the system restore point created before Kernel Data Inpage Error first occurred. To open restore points tool you may use rstrui.exe command in the "Run" dialog.
If you have a third-party antivirus installed, try disabling it and see if the error pops up again.
In case you've just installed Windows, download and install the official device drivers from the motherboard or laptop manufacturer's website. Chipset, SATA/AHCI and USB Controllers drivers are the first drivers to try.
If there's an error only when using some specific program, the issue might be with the app itself and how it interacts with the operating system.
Scan your computer for viruses and other malware. I suggest using the free AdwCleaner tool.
If you still experience the KERNEL_DATA_INPAGE_ERROR, please comment below and provide details under what conditions there's an error, are there any patterns you can mention, or any prior events or hardware changes made before the blue screen appeared for the first time, maybe there's a solution for your specific case.